---
Your #1 Solution To Providing Great Support For Your Baby's Spine, Pelvis, And Hips While Avoiding Back And Hip Pain, Excess Fatigue, And Bad Posture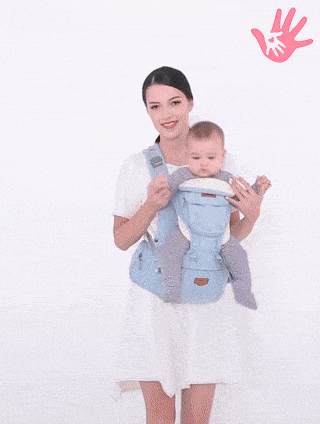 Your baby's health is invaluable. Prioritizing your child's skeletal development and avoiding the risk of hip-dysplasia is of utmost importance. As a proactive parent, this top ergonomic baby carrier with a detachable hip seat is the perfect choice for you, your baby, and your peace of mind.
This
6-in-1 ergonomic baby carrier
is designed for all babies, newborn ready, no insert is needed, has multiple carry positions, offers a perfect fit for all parents. 
Superior Nurturing, Ultimate Comfort, And Healthy Growth
 Significant Advantages Of All-In-One Ergonomic Baby Carrier
See How This Top-Selling Ergonomic Baby Carrier With Hip Seat Can Be Life-Changing For You

 
Convenience - If the baby is in the carrier you can accomplish your daily chores while knowing the baby is safe and happy.
It allows you to go places a stroller can't (like stairs, hiking, etc.)
Ensures that your baby's spine, pelvis, and hips are well supported. It helps protect your baby from hip-dysplasia.
It allows you to carry your baby longer throughout the day while avoiding back, hip, and shoulder pain, pangs of agony, and excess fatigue.
Helps create a closer bond between a parent and child when held close as well as regulate their own physiological functions; breathing, heart rate, and temperature.
Helps reduce daily crying time. Carried babies cry 40% less overall, and 51% less during the evening hours.
It provides maximum safety, ultimate comfort, and ease of use, especially when taking care of your baby alone. 
Grows with your baby from newborn to 36 months old or up to 45 lbs. Premium materials and workmanship, made for years to last.
All-in-one ergonomic baby carrier, has a detachable hip seat, plenty of storage space, breathable mesh, privacy hood, super padded, and enables you to carry your baby in multiple carry positions. 
Give Your Back A Rest, And Avoid Unnecessary Strain. Best Back Support Baby Carrier  
Holding your baby on the hip or in your arms can be exhausting and straining on your back, arms, and shoulders especially as the baby gets older and heavier. This ergonomic baby carrier is designed to distribute your baby's weight evenly across shoulders, back, and waist relieving the pressure causing back and shoulder pain, excess fatigue, and bad posture.
 A Versatile 6-In-1 Ergonomic Baby Carrier With Detachable Hip Seat That Can Be Used In 3 Different Wearable Modes 
This
 

unique baby carrier

 

has 
highly secured back straps, a double-layered waist belt, along safety buckles. It provides maximum safety for your child as you move along with your daily routine without worries.
From 

week 1 (7 lbs.) to 36 months old or (45 lbs. max weight),

 regardless of your child's height or body type, our sleek and easy-to-adjust baby carrier is designed to fit all sizes. Fully adjustable and designed to fit all adults' body types allowing you to safely carry your precious baby anytime, anywhere.
Detachable Ergonomic Hip Seat Carrier With Large Capacity Storage Space
This 6-In-1 ergonomic baby carrier has a well-padded, detachable hip seat carrier (waist stool carrier) with large-capacity storage space for your baby's necessities. It has additional side pockets which are great for your cellular phone, wallet, keys, and bottles when you're on the go.
The perfect infant carrier for parents who want extra support and large capacity storage.
Specifications
Newborn to 36 months old

Weight: 7 - 45 lbs. (Max weight 20 Kg)

Waist: 27.5 - 44 inches (27 - 110 cm)

Weight: about 1.7 lbs. (0.77 Kg)
SHIPPING TIMES
Due to Covid-19 shipping times have been adjusted. We fulfill your orders in the fastest possible time. Please allow 6-12 days for delivery to the United States (Note: Hawaii, Puerto Rico, Virgin Islands, Guam, Alaska, and American Samoa is 2-3 weeks) and 2-4 weeks to the rest of the world.
Shipping Free! SHOP NOW